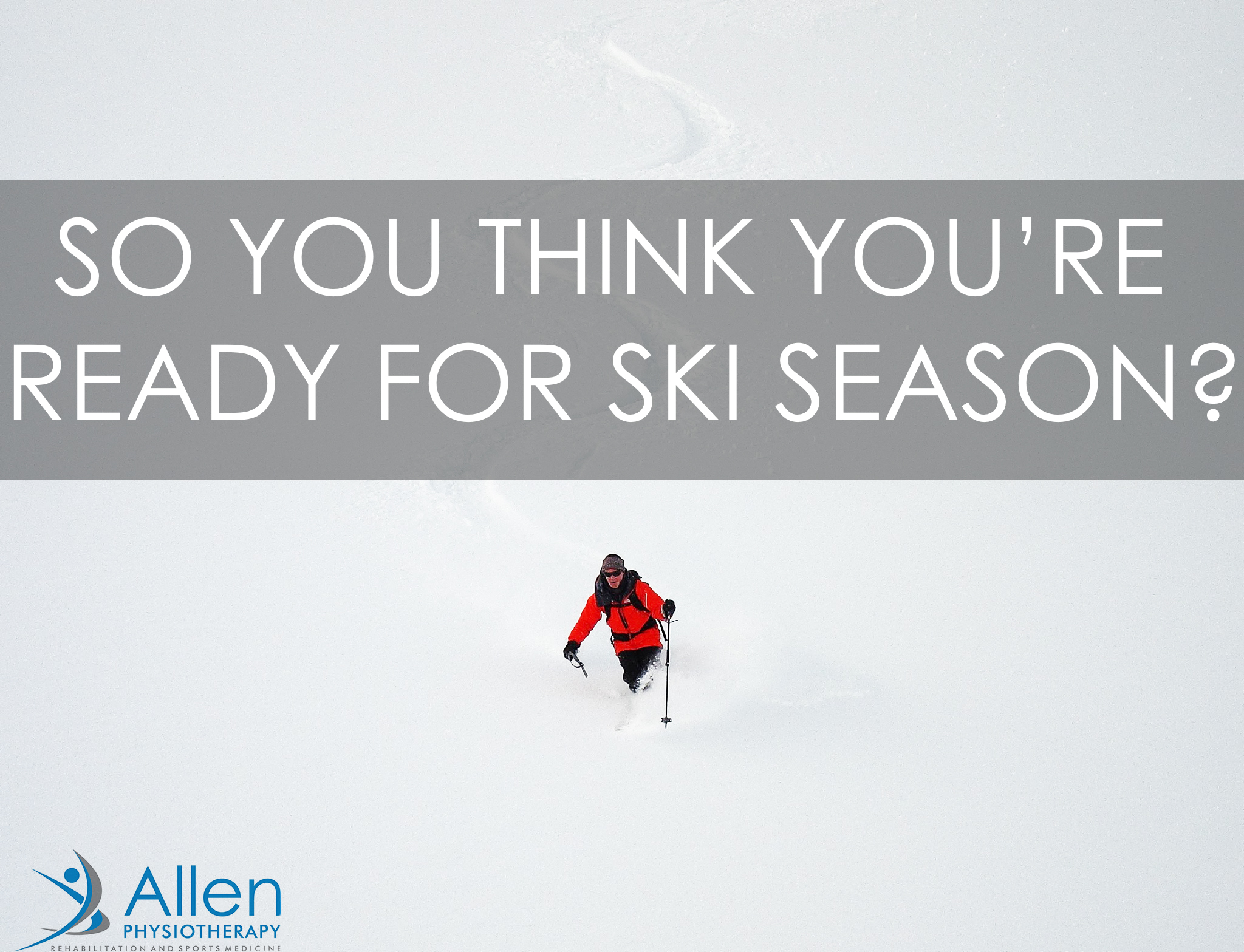 SO YOU THINK YOU'RE READY FOR SKI SEASON?!


Ski season almost here again!
Ski season opens again in the higher resorts. Are you ready? Realistically, probably not! How many of you are exercising 6 continuous days a week for several hours at a time, and at altitude?
Fitness is very specific- you get what you train for. The winner of the London marathon could probably not even ski down the Face de Bellevarde, let alone win it.
For most of you, it's about having fun skiing and not getting injured on your holiday. Some of you will be aiming to ski off-piste and do ski touring for 4 + hours in a morning, whilst others of you will be touring the restaurants in search of hot chocolate and a slap up lunch and barely ski hours 4 days all day, so clearly everybody's needs are different.
So, as a general rule, you all need to work on core fitness, cardiovascular fitness, flexibility, strength, and balance. There is no doubt that the fitter you are before you hit those slopes the less chance you have to get injured.
So I thought that rather than give you all a load of exercises to be working on I'd give you a few other tips to avoid getting hurt on your ski holiday.
1. Remember your sunscreen! The UV factor at altitude is very high, even on a cloudy day, and don't forget those lips too, nor your sunglasses as if you remove your helmet and goggles, you will need them.
2. Equipment – If you are not lucky enough to have your own boots and your feet are painful  DO go back to the rental shop and change them. You will not be able to ski safely if your feet are killing you! The same applies for badly tuned skis and in busy periods the turn around is pretty quick. If your skis feel very rough on their edges take them back as a simple tune can make all the difference, especially to a beginner.
3.Lessons – do not let your friends teach you. As much as they may be a good skier that does not mean they have any idea how to teach you. And undoubtedly they will take you on slopes too difficult as that is where they want to ski! Get some group or private lessons from a professional.
4.Alcohol- we know you are all on holiday and there is nothing better than a hot chocolate laced with rum, or a Gluwein.  But a few of these or a bottle of red wine with lunch is not going to help the safety of your skiing any more than it would in a car! Be careful.
5.Altitude- Exercising at altitude is harder on your body, that is why athletes go to altitude to train. If you are already a little unfit you will find it much harder in the mountains, even walking to the lifts from your chalet. During one of my ski seasons, a chap died of a heart attack just walking across the nursery slopes. Take regular breaks, and don't stay up all night partying, get a good rest.
6. Helmets- These are a big bone of contention for me as they are clearly designed for your safety and I would never let my children ski without one. However, there is a breed of "Helmet Heads" who think that they are invincible in their helmets and therefore have a right to ski at top speed way beyond their ability, on crowded slopes. They are even worse when topped with a GoPro so that they can compare their top speeds with their mates. Stay away from these guys. Helmets also potentially limit your hearing and peripheral vision making you less aware of those around you. I gather however that they keep your ears really warm on a cold day.
If you are unlucky enough to get hurt on your holiday try and find a good Physio in a resort and then come and see us on your return. Equally, if you would like any help and advice on any niggles before you go then give any of our team a call.
Happy safe skiing to you all.